Gaby Sabatino, D.C.
Chiropractic Physician
Dr. Gaby Sabatino grew up locally in Lebanon, IL. She began her professional education at Saint Louis University, where she graduated with a Bachelors's in Nutrition and Dietetics. Excited by her chosen field, she continued her education at Logan University, where she achieved a Bachelors's in Life Science and Doctorate Degree in Chiropractic in 2009. After graduation, she completed a year-long residency focused on Corrective Chiropractic Care and whole food nutrition in Chicago. Dr. Gaby proudly opened her clinic in March of 2011.
Dr. Gaby has a deep belief that how you treat your body now is how your body will treat you later in life. Her goal is to teach patients and their families the importance of getting adjusted partnered with proper nutrition to achieve optimal health. She currently lives in St. Louis, where she enjoys an active lifestyle with her husband, Clark, and "fur-baby," Walter.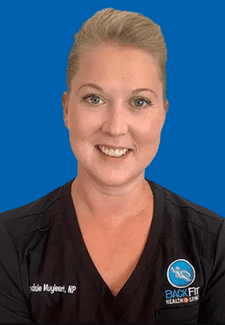 Lyndsie Muyleart, FNP
Family Nurse Practitioner
Lyndsie Muyleart is a Family Nurse Practitioner (FNP) at BackFit O'Fallon. Originally from Albers, IL, she got her Nursing Education Degree in Nursing to become a registered nurse from Southwestern Illinois College. She later went to McKendree University for her Bachelors of Science in Nursing. Then achieved her Masters of Science in Nursing to become a Family Nurse Practitioner from Maryville University.
Before working full-time at BackFit, Lyndsie worked for the clinic as a PRN for the past 3 years. A PRN nurse is a fully licensed nurse who works on an on-call basis. She loved the company, and when she had the opportunity to go full-time, she took it.
Outside of workings, Nurse Practioner Muyleart loves spending time with her two girls, bike riding, and taking vacations on the beach with her family.